How about having car insurance in Williamsville, NY?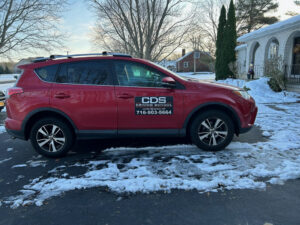 Christmas brings many expenses, including buying new clothes, gifts, food, and more. In this time of rush and happiness, you must focus on your cars, too, because you must be thinking about having a picnic or traveling with your loved ones.
No doubt it's a great idea to increase safety and save money in case of heavy car damage. But the cost is the biggest factor that can prevent you from considering renewing or buying new car insurance. But don't worry. There are ways to SAVE ON YOUR CAR INSURANCE.
Look no further; we have some amazing tips to help save on car insurance in Williamsville, NY, this Christmas.
Excited to know? Let's start.
How To Save On Your Car Insurance?
● Shop around
Compare quotes from different insurers to find the best deal. You should compare quotes from at least three different insurers to ensure you get the best coverage in Williamsville, NY. Be sure to compare coverage levels and deductibles, as well as the overall cost of the policy. It is also important to read the fine print and understand the terms and conditions before deciding.
Comparing quotes from different insurers can save money on car insurance because it allows you to compare coverage and prices from various insurers. You can find the best deals and coverage that fits your needs by comparing quotes.
● Increase your deductible
Increasing your deductible is one of the most effective ways to save money on car insurance. A deductible is the amount of money you are responsible for paying out-of-pocket in case of an accident or claim. By increasing your deductible, you are essentially taking on more financial responsibility for any claims and paying less for your premiums.
Generally, the higher the deductible, the lower the premium, and vice versa. When considering increasing your deductible, it's important to weigh the pros and cons. While you may be able to save money on your premiums, it's important to make sure you can afford to pay the deductible in case of an accident or claim.
● Bundle your policies
If you have multiple insurance policies, such as home and car insurance, consider bundling them with the same company to get a discount.
Bundling policies can save money on car insurance by allowing customers to bundle multiple policies with the same insurance provider. This helps reduce customer costs as the insurance provider may offer discounts for customers who bundle their policies. Customers can also benefit from having all their policies in one place, making managing and keeping track of their insurance coverage easier.
● Take advantage of discounts
Many insurers offer discounts for drivers with good driving records, who have taken defensive driving courses, or those who have installed safety devices in their vehicles.
Compare quotes from different insurance companies to find the best rates and discounts. Many insurers will offer discounts for having multiple policies, a good driving record, or a car with certain safety features. Additionally, many insurers offer discounts for being a member of certain organizations or affiliations. Researching the discounts available and asking questions can help you save money on car insurance.
● Pay annually
Paying your car insurance premium on an annual basis can save you money. Insurance companies often offer discounts to customers who pay their premiums annually rather than monthly or semi-annually.
This is because the insurance company has fewer administrative expenses associated with processing a single annual payment rather than multiple payments throughout the year. Paying annually can also help you avoid missed payments or late fees associated with monthly or semi-annual payments.
● Ask about loyalty discounts
The best way to save money on car insurance is to shop around for the best rate and consider loyalty discounts. Most car insurance companies offer loyalty discounts for customers who have been with them for a certain period. These discounts can range from 5 to 10 percent off your premium, so it pays to stay with the same insurer long-term.
Additionally, you can save money on car insurance by bundling different insurance policies, such as home and auto, or by taking advantage of discounts for good drivers, anti-theft devices, and safety features.
● Cut out any extras you don't need
Check your policy to see if you're paying for any extras that you don't need, and consider removing them.
One way to save money on car insurance is to cut out extras such as roadside assistance, rental car coverage, or accident forgiveness. These extras may seem beneficial but can add up quickly and increase your overall car insurance premiums. If you don't think you'll need any of these extras, you can save money by leaving them out of your policy.
● Consider a black box policy
A black box policy can help you save money by rewarding careful driving with lower premiums.
A black box policy is a type of car insurance that uses a telematics device to monitor your driving. The device tracks your driving performance and records data such as speed, braking, and cornering, how often you use your car, and when and where you drive. Depending on how safe a driver you are, your insurance provider can give you discounts on your premiums. This type of policy is usually aimed at young drivers, but some insurers offer it to all drivers regardless of age.
● Be a safe driver
Insurance companies consider your driving record when determining your premium and rates, so if you have a history of safe driving habits, you will likely receive a lower rate. Following the rules of the road and practicing defensive driving techniques can help protect yourself, your passengers, and other drivers while potentially reducing your insurance costs.
Additionally, you can save money by taking advantage of discounts offered by some insurance companies. These may include discounts for installing safety devices in your vehicle, taking a defensive driving course, or having a good credit score.
● Choose a higher excess
If you are willing to pay a higher excess in the event of a claim, you could save money on your premium. The excess is the amount you must pay if you claim car insurance in Williamsville, NY. A higher excess will reduce the amount you have to pay in premiums. However, it is important to make sure you can afford the excess before making a claim.
Why Gift A Car Driving Training To Secondary Students This Christmas?
Do you live in Williamsville, NY, and think about what to give a 16-year-old on this year's Christmas? It's an age when youngsters start entering a new phase of life when it's time to take on responsibilities and live independently. There are plenty of options to give as a gift, from fancy clothes to expensive mobiles, but why not gift car driving training?
Unsure about whether it is worth gifting or not?
Don't worry; here are some reasons to convince you.
1. Improved Safety
A car driving training course can help young drivers navigate the roads safely. Including learning the basic rules of the road, understanding the importance of defensive driving, and recognizing potential hazards.
2. Increased Confidence
Young drivers who receive car driving training can build their self-confidence behind the wheel, which can help them become more comfortable and secure when driving.
3. Improved Road Awareness
Car driving training can help young drivers comprehend the importance of road awareness, including learning how to read and understand road signs, recognizing the space around them, and being aware of other drivers, pedestrians, and cyclists on the road.
4. Reduced Traffic Violations
Car driving training can help reduce the number of traffic violations by teaching young drivers how to follow the rules of the road and stay within the speed limit. This protects them and others from potential rad accidents saving lives.
5. Better Driving Habits
Car driving training can help young drivers develop better driving habits, such as knowing when to use turn signals and how to use their mirrors properly.
6. Preparation for Adulthood
Gifting a car driving training course to secondary students can help prepare them for adulthood and the responsibilities of driving a car.
Where To Book A Car Training?
Cordaro is a driving school serving in Williamsville, NY, over the past 30 years to help teens and adults learn to drive safely without accidents and mishaps. They provide behind-the-wheel lessons to prepare for your successful road test.
Some of the benefits of availing Behind-The-Wheel service by Cordaro include:
● They'll pick up students from their location to provide ease of transportation.
● 5 10 12 hours package with a $695 price offer complete driving package
● Special trainers for youngsters to teach them from zero
● Students can save on getting a license with them on all packages
● Quick and easy instructions to save time
● 5-hour driving class is suitable driving education for those who already have some prior driving knowledge but want to know more.